Alutrend types
Outdoor and Indoor types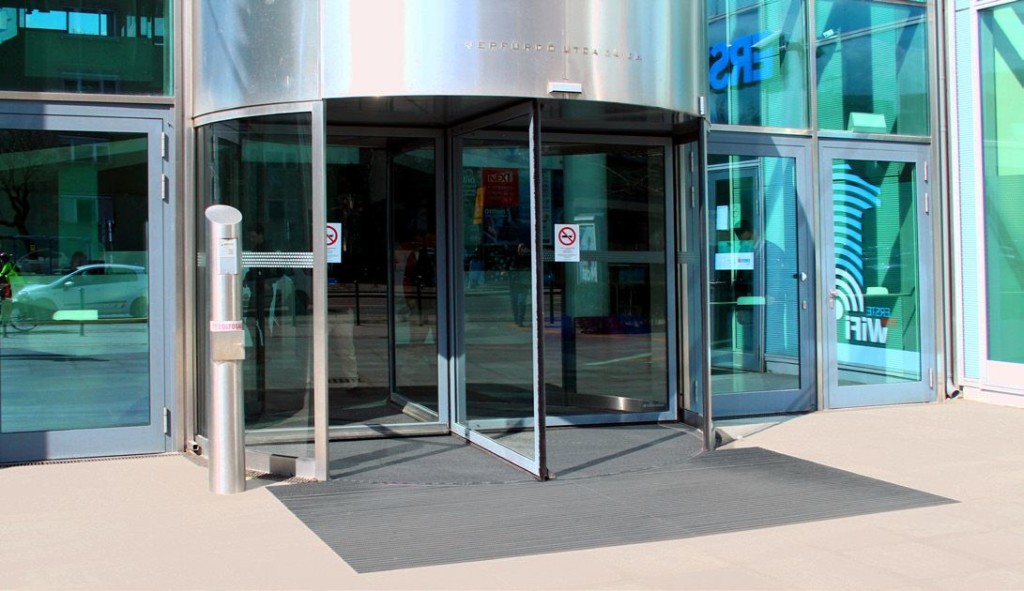 Alutrend® mat systems can be divided into two classes depending on the area where they are being applied: applicable both inside and outside. The treads of the outer mats have different properties than those of the inner mats. The first thing to consider is how the entrance can be divided according to zone approach, or whether it is possible to use outdoor mats, or does the matting have to be solved in the inside? By the way, it is advisable to also measure the surroundings of the building, or the possible types of dirt, which also have an effect on which types or combinations of treads can be inserted into the rails.
---
Various rail profiles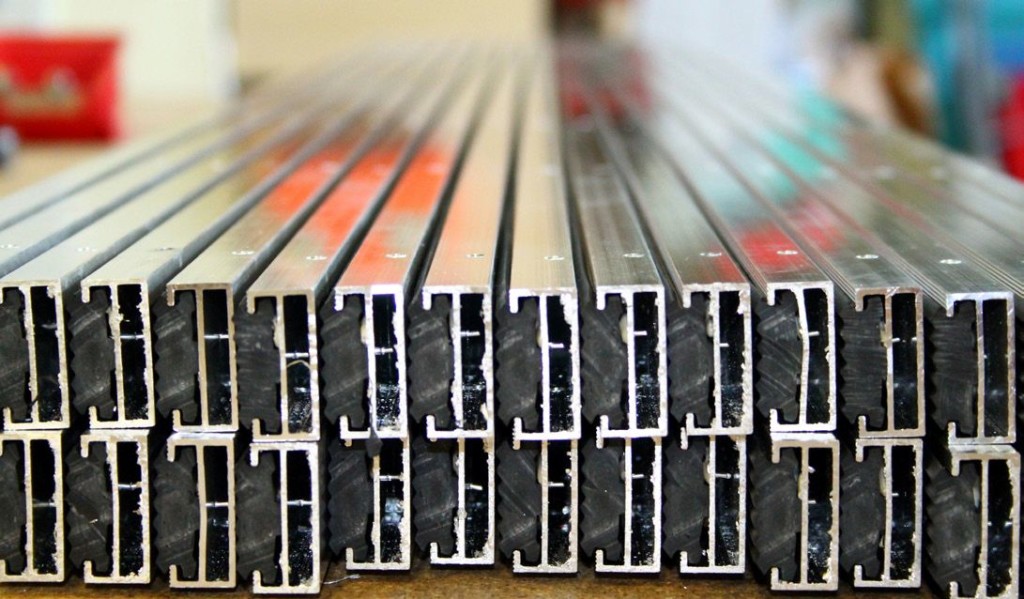 The following classification takes place according to traffic, which determines the usable size and structure of the aluminum rails. It is important to know how many visitors the building has, which entrance is being passed how many times, or where which mats have to withstand what kind of encumbrances. Thanks to these informations, we can specialize the Alutrend® entrance mats systems, because different aluminum profiles are the optimal solution for different cases.
---
Complete harmony, individual design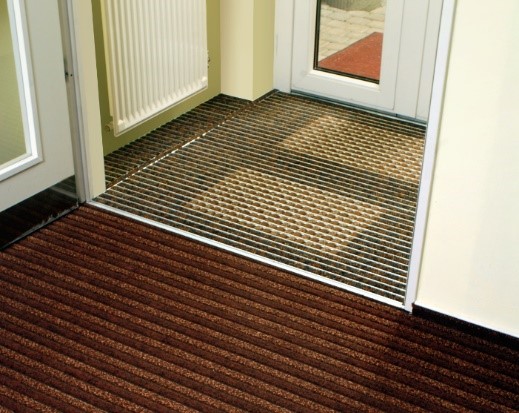 The third level of classification is the design. Specially designed Alutrend® mat systems with different mat inserts make it possible to design individual entrances for both indoors and outdoors. Depending on the style and environment of the building, colorful brushes can also be used in the outdoor area. Numerous types and colors of textiles are available for the interior. With the right selection a perfect harmony in the interior can be achieved.
---
Selectable rail profiles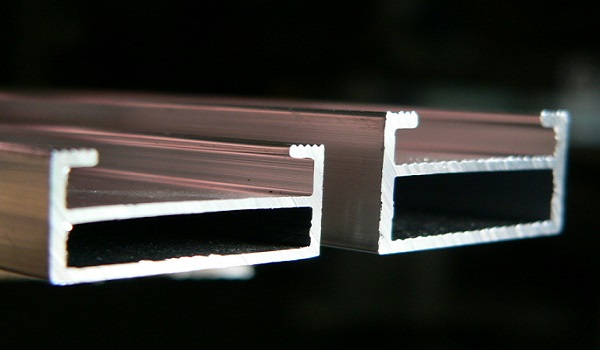 The main function of the mat systems is to protect the floor of the interior and to reduce the frequency of cleaning the inside of the building. By side they have to match the look of the building, when it comes to traffic size and possibly occurring types and amounts of pollution. Furthermore, the appropriate style to environment is just as important as the thrift. That is why we have optimized the Alutrend® mat systems for various types of traffic – Maxi, Mini and Compact types are being distinguished from one another.
---
Maxi Profiles
Robust aluminum alloy developed for traffic of more than 1000 pedestrians per day. Available with textile, ribbed rubber and brush surfaces, suitable for intensive pedestrian, wheelchair and shopping cart traffic. The structure of the aluminum skeleton system makes it possible to store larger amounts of dirt. We recommend this for frequented entrances.
---
Mini Profiles
Powerful aluminum alloy for the traffic of less than 1000 pedestrians per day, ca. 100 pedestrians per hour. Available with textile, ribbed rubber and brushes, suitable for medium-sized pedestrian and moderate wheelchair and shopping cart traffic. The structure of the aluminum skeleton system makes it possible to store moderate amounts of dirt. We recommend this for medium traffic entrances.
---
Compact Profiles
Low, wide profiles made of aluminum alloy, designed for traffic of less than 200 people per day. Available with normal textile and printed textile treads for smaller pedestrian traffic. The aluminum skeleton system, combined with unbreakable connecting elements, collects contamination on the surface. Recommended for home and buildings with less traffic.
Each of the three profile types can be used both inside and outside. The materials used are fully weather resistant, winter frost, summer heat and strong UV rays can not do any harm.
Optional Outdoor treads: ribbed rubber, brush, scratching yarns and printed textile
Ribbed rubber and brush surfaces are the most commonly used outdoor cleaning surfaces of the Alutrend® aluprofile entrance mats. If it is not possible to install mats in the outdoor area, there's opportunity to place both surfaces in the second zone, indoors. Mixed and strip-like design: the closest to the entrance scratching yarn is suggested, while further away moisture-absorbent textile is recommended. On the outside, outdoor surfaces like printed artificial grass are exclusively recommended, which in particular has a strong cleaning effect and can transmit marketing messages by means of printed logos at the entrance.
---
Functionlatity
| | | |
| --- | --- | --- |
| Ribbed rubber | The ribbed rubber surface has been developed specially for wheelchair and shopping cart traffic. The closely ribbed facet reduces rolling resistance, still it accomlishes an effective cleaning of shoes and a safe entrance into the building. Recommended for paved or hard-surfaced atmosphere. | | Textile | The outdoor textile surfaces consist of scratch fibers and do not suck themselves full with water in case of rain. Its task is to remove smaller rigid dirt, which can be fulfilled under any weather condition. |
| | | |
| Brush | The small scaled but densely integrated brushes clean rigid dirt and remove small gravel surpassingly from the boot-soles. An optimal solution in an environment where all kinds of contamination are to be expected and the protection of the interior is extremely important. The ideal choice for structures with mixed flooring (e.g. asphalt, paving stones, gravel, sand, etc.). | | Printed artificial grass | The outdoor artificial grass has excellent scratching effect and can be printed in 16 colors, so it glows individuality from the distance. An outdoor mat with graphics attracts attention already at the entrance. |
---
Outdoor ribbed rubber surface
100% elastic PVC
4 mm rib height
Cfl-S1 refractoriness
UV-proof

Ribbed rubber in Maxi Profile
Ribbed rubber in Mini Profile
---
Outdoor brush surface
100% 6.6 nylon thread
PVC base
5 mm fiber height
110 fibers / knot
3 rows / rail
Cfl-S1 refractoriness
UV-proof

Brush in Maxi Profile
Brush in Mini Profile

---

Available colors for Maxi Profiles
| | | | | | |
| --- | --- | --- | --- | --- | --- |
| | | | | | |
| B01 Black | B02 Dark Grey | B03 Light Grey | B04 Brown | B05 Yellow | B06 Tan |
| | | | | | |
| B07 Dark Green | B08 Green | B09 Mint Green | B10 Blue | B11 Dark Red | B12 Red |
| | |   | | | |
| B13 Orange |  B14 Purple |  B15 White |  B16 Light Blue | | |
---
Outdoor textiles
Rinos Collect: 100% polyamide fiber, PVC backside, 7 mm fiber height, Cfl-S1 refractoriness, DS slip-proof

Anthracite

Brown

Red
---
Outdoor printed textile
Outdoor printed artificial grass: step-proof, artificial grass with coarse fibers, PVC backside, 15 mm fiber height, Cfl-S1 refractoriness, DS slip-proof
 

Printing technology

Low resolution images and logos
25 dpi printing detail
PMS coloring
16 colors to choose from
Min. 10 pixels line thickness
Overprint / flow distance: 10mm
Transfer format: PCX
---
Colors available for artificial grass
| | | | | | |
| --- | --- | --- | --- | --- | --- |
| | | | | | |
| White | Peach | Ocher | Grey | Pale blue | Red |
| | | | | | |
| Orange | Yellow | Green | Blue | Claret | Brown |
| | | | | | |
| Anthracite | Dark green | Navy blue | Black | | |
Optional Indoor surfaces: liquid absorbent and printed textiles
The quality of the Alutrend® aluprofile entrance mats require the use of top quality textiles in the rails. Cleartex Ltd. is a prominent Forbo distributor in Hungary, our mat systems are equipped with the diverse Forbo textile mats. For the interior there are numerous liquid-sucking textiles and textiles like scratching yarns with scratching function available. For the inside a special solution, the branded mat provides messages.
---
Functionlatity
| | | |
| --- | --- | --- |
| Textile | The basic function of the textile treads is to absorb liquid and to clean minor dirt. The textiles can consist of one (liquid-sucking) or two (liquid-sucking and scratching) functioned surfaces, or for the outside artificial grass only. While the mixed-use fabrics work best near the entrance, the liquid-sucking textiles do their best inside, farther away from the entrance. | | Printed textile | Task of the printed, or branded mats is it mainly to transmit messages and to clean and to absorb liquids at the same time. When it comes to branded mats it is also possible for us to produce high-detailed branded mats. |
---
Indoor textile treads
Coral Classic: 100% polyamide fiber, Everfort PVC backside, 7mm fiber height, Bfl-S1 refractoriness, DS slip-proof
| | | | | | |
| --- | --- | --- | --- | --- | --- |
| | | | | | |
| Warm Black | Raven Black | Anthracite | Mouse Grey | Silver Grey | Bronzetone |
| | | | | | |
| Espresso | Taupe | Khaki | Olive | Old Rose | Bright Red |
| | | | | | |
| Navy Blue | | | | | |
Coral Duo: 100% polyamide fiber, Everfort PVC backside, 7mm fiber height, Bfl-S1 refractoriness, DS slip-proof
| | | | | | |
| --- | --- | --- | --- | --- | --- |
| | | | | | |
| Black Diamond | Dark Steel | Cafe Bahia | Luna Pearl | Sicilian Sand | Cafe Supreme |
| | | | | | |
| Volga Blue | African Red | | | | |
Coral Active: 100% polyamide fiber, Everfort PVC backside, 7mm fiber height, Bfl-S1 refractoriness, DS slip-proof
| | | | | | |
| --- | --- | --- | --- | --- | --- |
| | | | | | |
| Aztec Black | Vulcan Black | Charcoal Grey | Asphalt Grey | Cannon Grey | Hurricane Grey |
| | | |   |   | |
| Shark Grey | Petrified Grey | Chocolate Brown | Masala Brown | Straw Brown | Slate Blue |
| | | | | | |
| Stratos Blue | Bondi Blue | Cornflower Blue | Royal Purple | Brick Red | Cardinal Red |
Coral Welcome: 100% polyamide fiber, recycled PVC backside, 7mm fiber height, Bfl-S1 refractoriness, DS slip-proof
| | | | | | |
| --- | --- | --- | --- | --- | --- |
| | | | | | |
| Black Magic | Silver Shadow | Desperado | Matrix | Blue Lagoon | Blue Velvet |
| | | | | | |
| Colour Purple | Volcano | | | | |
---
Indoor textile branded mats
Indoor printed textile: 100% high-twist 6.6 polyamide fiber, PVC backside, 6mm fiber height, Bfl-S1 refractoriness, DS slip-proof
 
Printing technology

Images and emblems with high resolution in full color range
PMS coloring
76,2 dpi printing detail
Min. 10 pixels strength
Transfer formats: AI, PSD, EPS, PDF
Color coding: PANTONE, RAL, Munsell, TRUMATCH, CMYK, RGB
Overprint / flow distance: 10mm