Mounting
Installation of matting systems
It is recommended to install the Alutrend® mat systems into the flooring. This ensures the accident-free entrance, does not disturb the opening and closing of the doors and is aesthetic at the same time.
Installation process:
Design dies for Maxi or Mini Profiles
Fixing the frame – by concreting or gluing it in
Compensation of the frame receiving level and leveling to the upper edge. In the case of outdoor mats, it is recommended to ensure a slight inclination for providing a drainage system.
Special attention must be paid to balancing. The aim is to create a perfectly even surface, so that the mat system can be flattened without tilting. If there's any unevenness, the aluminum elements can deform.
The balancing measure is 6 mm in case of both, Alutrend® Maxi and Mini frames. These mounting frames fit perfectly to the base. Their wall thickness is 6 mm in both cases.
If the mats are being installed with L-profiles, it's important to ensure that their dimensions do not always correspond to the Alutrend® profiles. The compensation must therefore be planned and executed accordingly.
In case of the 20 mm Maxi Profile, if the height of the L-profile is 23 mm and the wall thickness is 2 mm, the balancing measure must be 5 mm.
In case of the 15 mm Mini Profile, if the height of the L-profile is 18 mm and the wall thickness is 2 mm, here also a 5 mm balancing measure must be expected.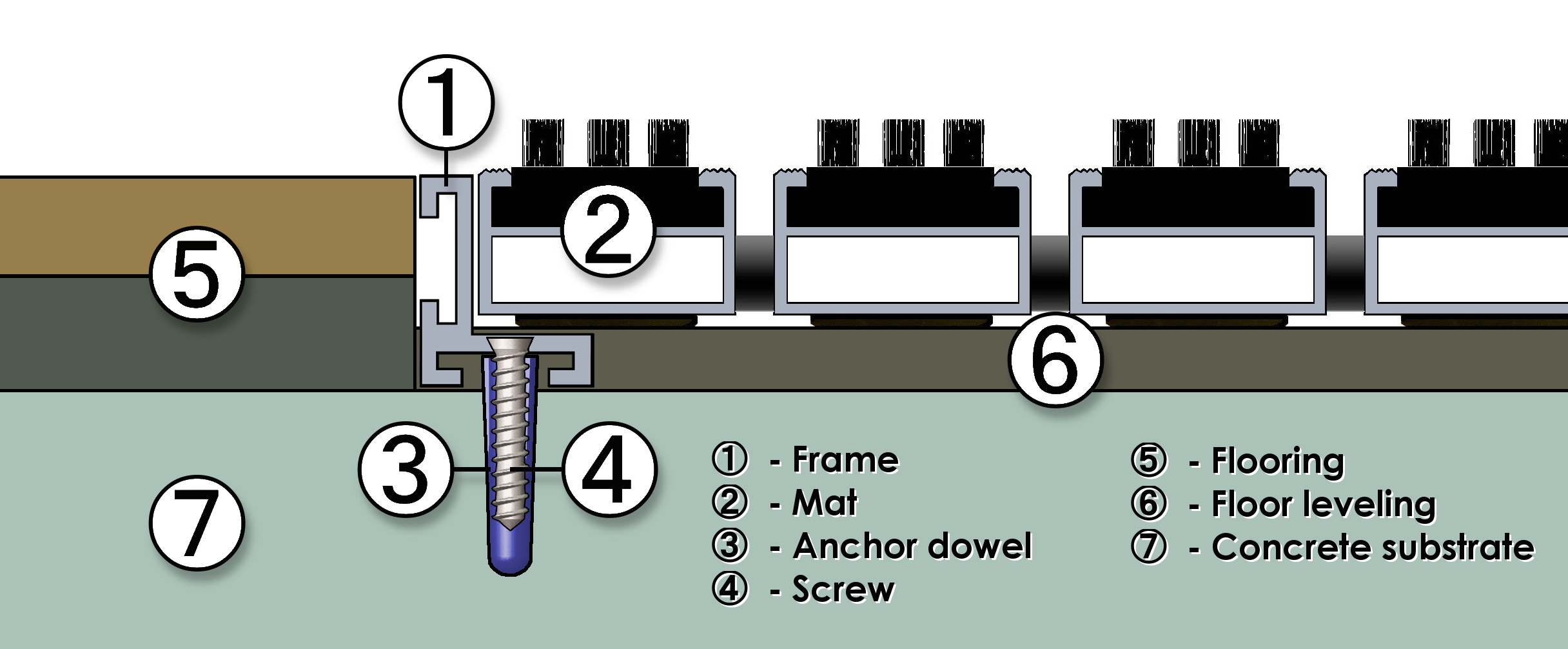 ---
Weight and maximum sizes of Alutrend®
The larger Alutrend® mats consist of several elements. As these elements follow each other, they can be moved freely one after the another. If, however, they are laid side-by-side, they are laid separately with T-profiles. The recommended maximum length and width of an element is ca. 2.5 metres.
The limits of the maximum sizes of the Alutrend® mats are determined by handiness and weight. During cleaning, they've got to be rolled up regularly, or they have to be taken out from time to time (see cleaning guide). Weight depends on grounding and tread type.
| | | | |
| --- | --- | --- | --- |
| | Maxi profile | Mini profile | Compact profile |
|    Weight with brush surface | 16.7 kg/m2 | 14.4 kg/m2 | – |
|    Weight with ribbed rubber surface | 20.1 kg/m2 | 17.7 kg/m2 | – |
|    Weight with textile surface | 14 kg/m2 | 11.6 kg/m2 | 9.5 kg/m2 |
In case of sizes being different, the rails can be cut parallel to each other (at the two ends) and be grinded. However, the vertical differences (which correspond to the direction of travel) must be reported, these can not be solved on the spot.
Take advantage of the Cleartex services when it comes to installation, as well as with other questions! Call +36 30 413 8175 for further information!